*Potential Spoilers*
The invitations have been mailed, guests have arrived and "A Night In Karazhan"  is  showing fans just how wild a Hearthstone party can be. The first two wings, "Prologue", and  "The Parlor" have been released  and time with both has shown me a solo adventure with a lot of potential. Solo adventures in Hearthstone work at providing an alternative to the ranked PVP style of play and Karazhan does this with humor, new cards, and interesting battles that pay homage to its original source material. So without further ado lets walk the red carpet and find out just what Karazhan has in store for us.
The "Prologue" is the first wing, that is available to everyone regardless if you purchase the full adventure. Think of it as demo into the adventure. We start of as Medivh who is in final preparations for a big party. Things change however when Prince Malchezaar opens a portal into Medivh's private quarters. In typical Heartstone fashion the fight that happens afterward feels slightly overwhelming at first glance. Malchezaar is able to summon a 6/6 creature for two mana every turn but Medivh proves why he is an Archmage with a deck that provides increased spell damage, numerous spells to make use of it, and some moments that are guaranteed to make you feel like an unstoppable force.
The battle concludes with Medivh vanquishing Malchezaar and the demon prince promptly responding by saying that he is taking Medivh with him. The story does follow some cliches to start but what happens afterward in wing 1 is far from normal. Did I forget to mention that you receive the Druid one mana 2/2 beast Enchanted Raven and the Mage seven mana spell Firelands Portal.
The thing about Archmage's is that they can do amazing things with their magic like make plates, chest pieces, and mirrors talk, but when that Archmage is kidnapped by a demon, things begin to get a little chaotic to say the least. This in turn brings us into the first purchasable wing "The Parlor.".
The Parlor features three boss battles who's names I did not make up. There is the Silverware Golem who I assure you, does not cry over spilled milk, the Magic Mirror who does not think that you are the fairest of them all, and to conclude, you have Chess which I have to admit, is one of the most interesting variation to the standard Hearthstone formula to this date.
Silverware Golem
Beauty and the Beast introduced the world to the idea that talking silverware is a good thing, but Hearthstone has proven that silverware is far from being good. The Silverware Golem challenges you with, you guessed it, silverware. It's hero power "Be our guest" summons a 1/1 plate for 0 mana. The Golem's deck makes good use of its power but the trick in defeating him lies in getting rid of the cards that buff his plates. Once you've washed the dishes, you'll be rewarded with 2 Silverware Golems 3/3 and 2 Deadly Forks 3/2.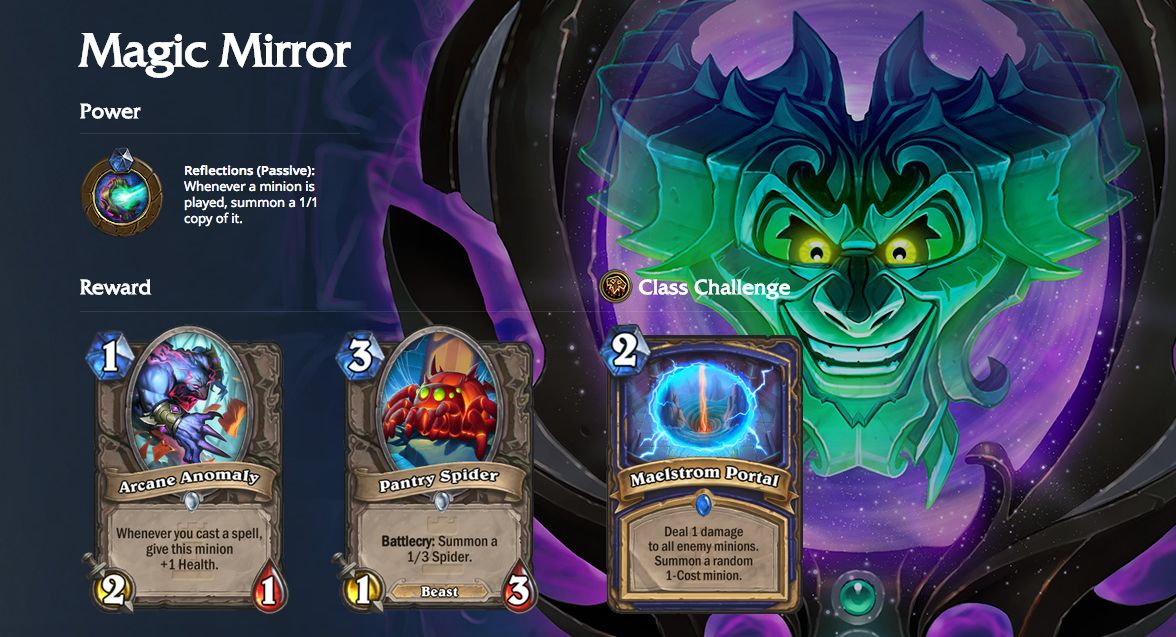 The Magic Mirror
Have you ever looked in a mirror and imagined that it told you too shut up? Sadly Medivh's magic mirror has taken a turn for the worst and who better to teach him some manners than you. The mirrors hero power is passive and every time a minion is summoned a 1/1 minion of the same name is created for the hero that summoned it. This battle is more chaotic than it truly seems and the best thing to do is run a zoo deck that focuses on deathrattle. Keep this up and The Magic Mirror will be no more, also adding two new cards to your possession. You will receive 2 Arcane Anomalies 2/1 and 2 Pantry Spiders  1/3.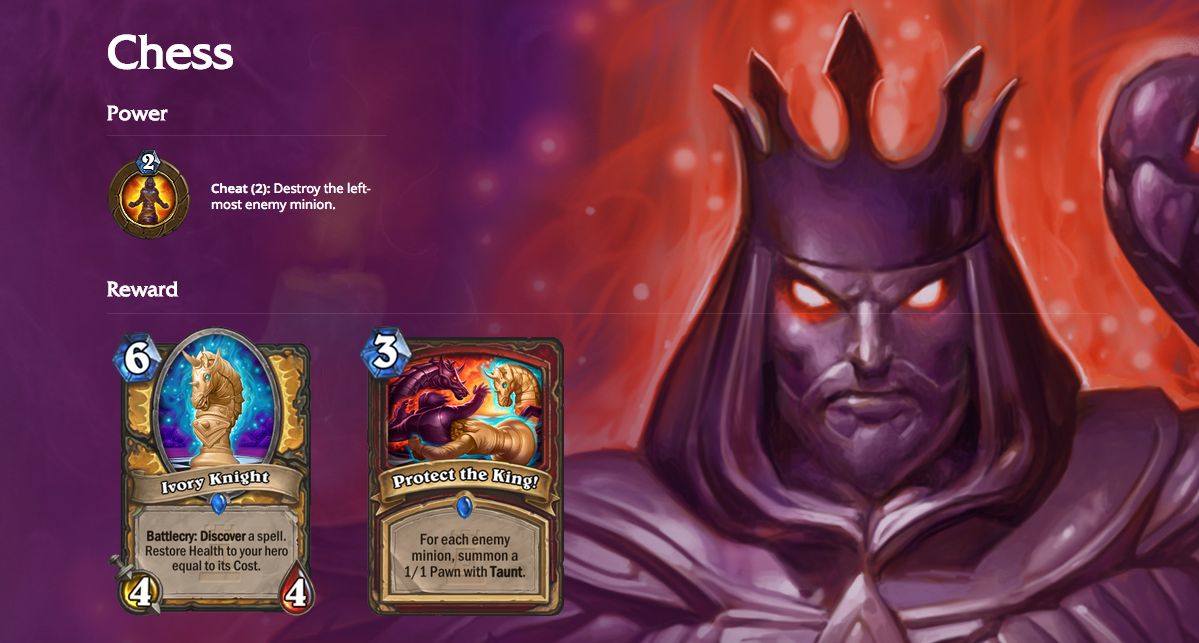 Chess
This is by far the most exciting and creative variation in Hearthstone that I have ever played. Your Goal in this fight is to Damage the Black King with your chest piece themed cards. The pawns are only able to attack what is directly in front of it. This fight is all about strategy and most will be learning on the fly. The best advice is to use your Knight and Queen pieces as removal tools to get weaker pieces off of the board. Once you beat the Black King you get the Ivory Knight 4/4 and Protect the King!.
Over all the expansion has been great and some of the cards are really stand outs. When the next purchasable wing is available, GameLuster will have you covered. For more info on Hearthstone stay locked in to GameLuster.