The gaming industry is one of the most quickly advancing in the world. Developers and companies are coming out with new consoles and technology at a mind-blowing pace. Sony's Play Station units are no exception, and in 2013 we welcomed the PlayStation 4 as the newest Sony gaming console. It's predecessor, the PlayStation 3, was released in late 2006 and boasted an impressive number of games and new features during its seven year lifespan. Groundbreaking games and updated reboots make up a lengthy repertoire of entertainment for even the most niche gamers. Here are five of the very best games released for the Play Station 3 console.
Grand Theft Auto V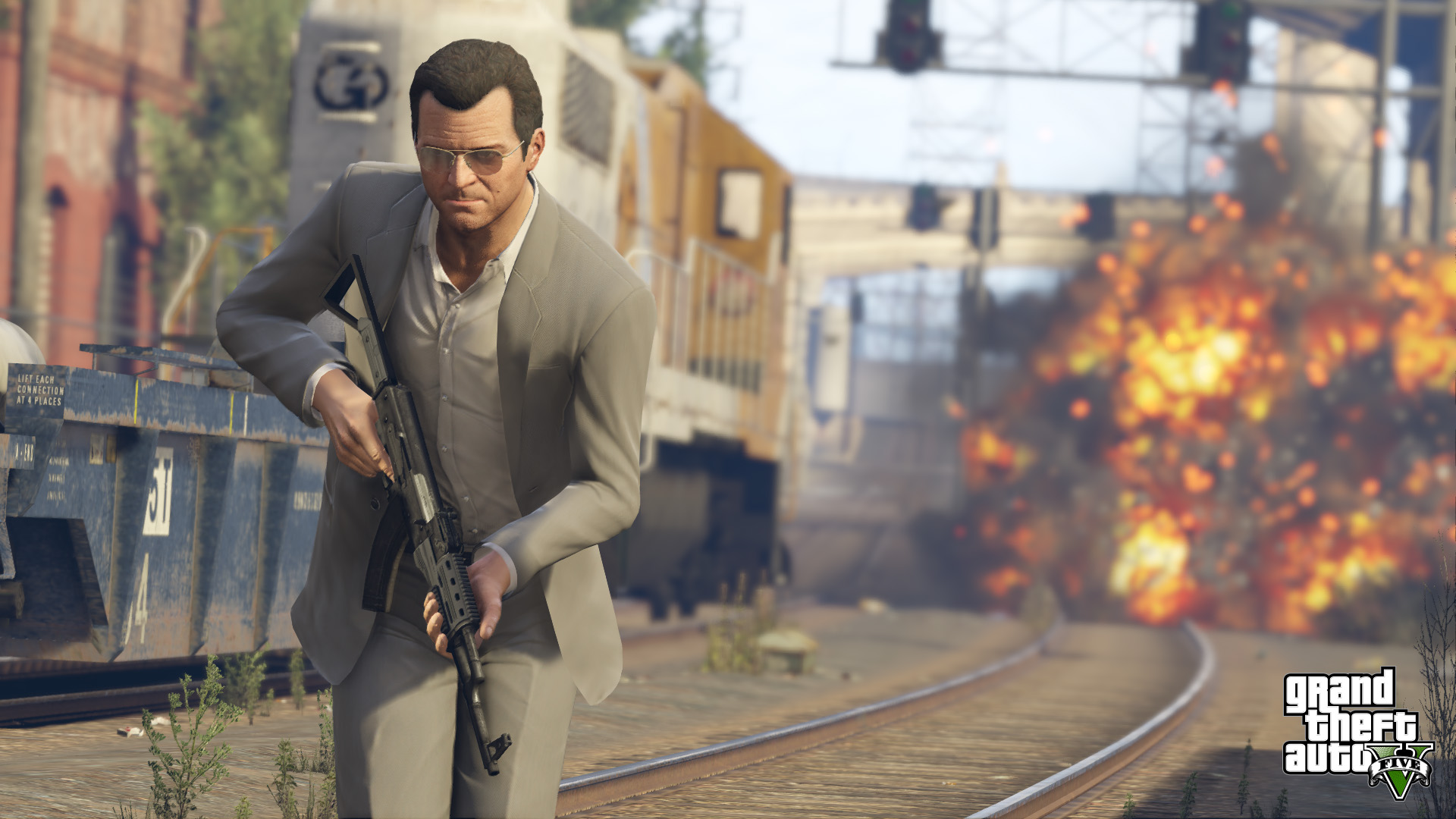 The Grand Theft Auto franchise, made by Rockstar Games, has always been popular with its customized characters and vehicles, and general disregard for rules. The fifth instalment is no different, and the franchise has never looked better. It was released in September of 2013 and won VGX Game of the Year, among a slew of other accolades. The game itself features a sprawling and intertwining story as players navigate their crew through a string of heists on behalf of three criminal big wigs. Of course, the story is just one of the many draws Grand Theft Auto has.
Multiplayer options, racing, and customizing houses and cars are just a few extraneous features offered by this understandably popular game. A replay value can't really be assigned to this unique franchise, as many players don't stop playing, even after the story missions have been completed, instead jumping into races with friends and creating unique and exciting maps and heists of their own. In that way, Rockstar keeps proving themselves as a leader in not just story-driven gameplay, but also in simulation, giving gamers the freedom to lead an alternate life; for better or worse. Absolutely deserving of all its shiny medals and accolades as well as the positive reception from fans of the franchise, Grand Theft Auto V is a solid and easy pick for one of the best video games the PS3 had to offer.
Ni No Kuni: Wrath of the White Witch
A collaboration between Level 5 and Studio Ghibli. Yes. Studio Ghibli, the company responsible for countless movie masterpieces including Spirited Away, Howl's Moving Castle, Ponyo, and My Neighbor Totoro, to name only a few. To say this game was anticipated for its early 2013 release would be a colossal understatement. It didn't disappoint, either, ranking number fourteen on Metacritic's 2013 best game list, and maintaining generally positive reviews since then on a number of sites.
It isn't hard to see why: Featuring animations done in Studio Ghibli's unique and endearing style, music composed by legendary composer and Ghbili regular Joe Hisaishi, and a combat system that feels so much like a classic turn based RPG while still incorporating active time, Ni No Kuni is a delight for all the senses. It details the story of Oliver, a young boy who travels to a parallel world with the help of a lantern-nosed fairy after a tragedy leaves him alone. On his travels, he meets a number of fun and memorable characters, not the least of which are the myriad of creatures you can befriend to aid you in battle. The story becomes much more than just a boy trying to find his mother as Oliver learns that sometimes the best way to deal with your own grief is to help erase someone else's. The stunning visuals, incredible score and sheer number of catchable creatures accompany this long reaching story to provide hours upon hours of enjoyable gaming. A story that begins simple, and ends up becoming so much more in a way that only Studio Ghibli can manage, Ni No Kuni: Wrath of the White Witch is one of the greatest games to ever come to the Play Station 3.
Red Dead Redemption
Tally up another VGX Game of the Year award for Rockstar, this one for their 2010 release of the western-styled action game, Red Dead Redemption. Featuring a free to roam open world and a beautiful sound track, Red Dead Redemption follows the story of John Marston, a former outlaw who's been threatened by federal agents to bring order to the lawless American West. Gun duels, bountie hunters, and even a few train robberies mesh with survival game aspects to create this immersive masterpiece of a game.
As you trot about from mission to mission on your horse, you can come across strangers in need of help. It isn't mandatory to help them, but the availability of optional undertakings encourages you to explore the expansive world provided to you, and the extra money and fame can't hurt either. Another mechanic featured is Dead Eye, which helps you place your shots in slow motion. It's most notably used in duels and is especially useful if you don't want to kill your opponent. The mechanic is also available in regular gameplay, with a cool down system in place to ensure players don't abuse it. Duels become a common thing the more famous you become and regardless of whether your fame is good or not so good. It's award as game of the year is well earned, as its rating on Gamestop remains an impressive 9.5, with similar ratings across other reputable sites. Red Dead Redemption has an enviable mix of story driven and free-roam gameplay within a beautifully detailed open world. An example of everything done incredibly well, Rockstar's 2010 gem of a release is an easy pick for one of the top five games ever released for Play Station 3.
The Last of Us
Blending horror, survival, action, thriller, and role-playing aspects into one heart-wrenching adventure, The Last of Us is one of the most critically acclaimed games since its release in 2013. The story follows the adventures of Joel, a bereft father as he guides a young girl who holds the key to curing the infection through a dangerous world reeling from a mysterious pandemic.
People come, people go, and even more succumb to this zombie-like illness as Joel and Ellie make their way through a lawless and immoral world of people doing whatever they can to survive. The combat in The Last of Us is unique, as you can create your own weapons from the world around you; not much is off limits. You can take the firearms of the people who stand in your way, or you can craft more primal weapons for closer combat, depending on which suits your style and situation. In The Last of Us, it is best to be prepared for anything, as allies will turn on you the moment it benefits them to do so. The three main characters in the game are Joel, Ellie, and a woman named Tess. Joel's cynicism is not only understandable, but somewhat contagious as the player witnesses and facilitates violence and savagery.
Tess is a ruthless and determined woman who is equally unpleasant in her single minded drive towards her goal. Ellie, however, is still a young girl with fears and uncertainties as well as dreams and fantasies, making her a heaven sent contrast to the adults around her. The Last of Us is a glorified escort mission through a ravaged world in which society (what's left of it, at least) has descended into the very bottom of the barrel. It's unique blend of genres and range of play options mesh with a thrilling and emotional story that has earned it the penultimate position on this list of top games ever released on Play Station 3.
Journey
That Game Company knocked it out of the park with their 2012 stunner, Journey. This unique game is breathtaking in every sense of the word. The visuals are beautiful in their simplicity and the music is superb. In fact, among its staggering number of awards and accolades, the soundtrack of this game was nominated for a Grammy for best score in a visual medium, which speaks volumes not only for the score itself, but on the impact this game has had on the public. Journey is a short and sweet adventure RPG that features one of the most unique co-op systems ever seen: You are given a partner, but not told their name until the very end. Additionally, your only means of communication between each other are little chimes and blips.
No words are written or spoken between the two of you as you navigate rolling sand dunes, sneak past ancient monsters, and make your way up a brutal mountain together. This unusual communication system shattered language barriers and allowed random people to play and experience Journey's flowing gameplay together. This games innate ability to bring people together in the most simplistic and unexpected way is just one of the many exceptional thing this game does, and because you play with someone different every time, making new friends is pretty much guaranteed.
The game itself is very smooth to play; you can slide down the sand dunes and float along the mysterious pieces of fabric that make up your scarf as you progress through your journey. The game takes between one and a half to two hours to complete, and the simplistic gameplay and soothing music make it a fun de-stresser that many gamers are more than happy to return to. Its high replay value, unique co-op, and exceptional quality are what put this short and sweet adventure in the number one spot for best games ever released on the Play Station 3 console.