Atomic Heart is one of the upcoming titles that has been generating a lot of buzz over the past few years. This first-person shooter has been in the works for a while now, and its launch date is right around the corner. The game has become popular due to its outstanding trailers, which do an excellent job of showcasing its astonishing graphics and mysterious setting of alternate history.
We are certain Atomic Heart is going to be worth your time and attention. Boasting a beautiful science-fiction atmosphere, a combination of fast-paced FPS action and intense melee fighting, and a narrative that will take you to the depths of confidential Soviet research facilities. In this article, we will take a look at the platforms that Atomic Heart is available on, as well as the version breakdown of the game.
Where is Atomic Heart Available?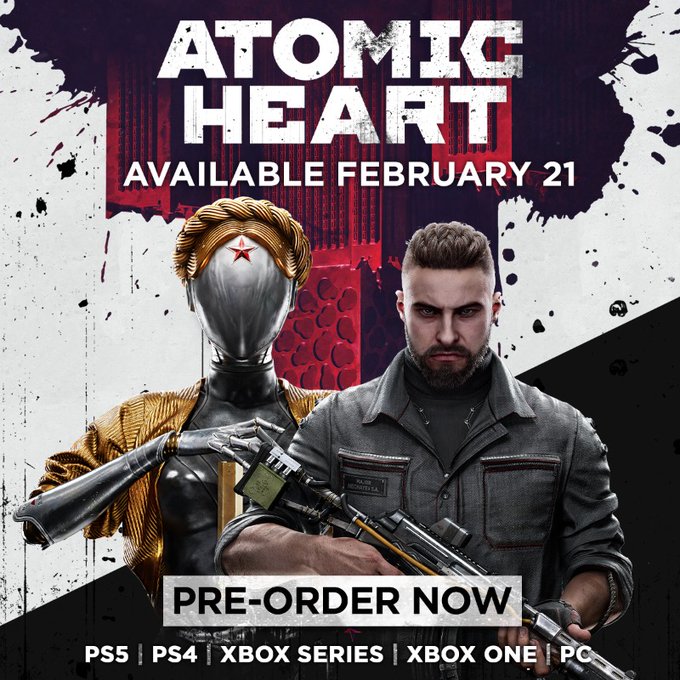 Atomic Heart is ready to pre-order on PlayStation 5, PlayStation 4, Xbox One, Xbox Series X and Series S, and PC via Steam platforms. Pre-ordering the game will get you access to exclusive bonuses and rewards. Once the game is officially released, you can also purchase it in stores. So if you're a fan of the series, don't miss out on this chance to be one of the first to get your hands on it!
Difference Between Every Atomic Heart Version
The only difference we can see between the Atomic Heart Standard Edition, Gold Edition, and Premium Edition is the pre-order bonus reward. Standard Edition features two weapon skins, Gold Edition features two weapon skins plus an Atomic Pass, and Premium Edition features four weapon skins, an Atomic pass, and a Digital Art Book.
There is also an Atomic Heart Limited Edition Bundle which includes the game's official Steelbook, an artbook crafted by the studio, a stylish metal poster, the game on the platform of your choice, and the Labour & Science weapon skin pack DLC!
To make it easier to compare, we've shared the pre-order bonus rewards for each version below:
Standard Edition
Gold Edition
Swede Skin

Electro Skin

Glove Skin

04 DLC
Premium Edition
Swede Skin

Electro Skin

Glove Skin

04 DLC

AK Skin

Zvezdochika Skin

Digital Art Book
Limited Edition Bundle
Game's official Steelbook

An Art Book crafted by the studio

A stylish Metal Poster

Labour & Science weapon skin pack DLC
What is the Atomic Heart Price?
Atomic Heart is available in three different versions – Standard, Gold, and Premium. The Standard Edition costs $59.99, the Gold Edition costs $89.99 and the Premium Edition costs $99.99. However, prices may vary in different regions. So, to get the best deal, pre-ordering the game is recommended as it offers bonuses and discounts. It is also essential to stay updated with the development of the game to get the best price.
That's all you need to know about where Atomic Heart is available and the differences between the versions. Which version are you going to buy? Comment below and let us know!
Atomic Heart is an FPP game available on PlayStation 4, PlayStation 5, Xbox One, Xbox Series X/S, and PC platforms.